Check out some of our newest books
and materials...
Click here for a closer look...
---
Like us on Facebook! We have many updates on programs, new materials, schedule changes, and more!


Follow us on Twitter! more than just updates! Fun stuff!
See pictures of all the latest happenings at the Library!
---
---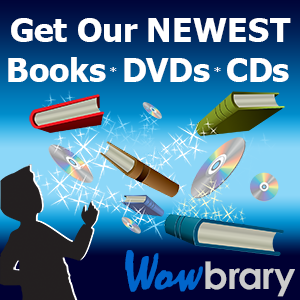 Sign up to receive an email each Wednesday with our most recent additions.

---
We Give Thanks with Imajine That!
For Ages 3 - 6
Friday, November 7th from 10:30 - 11:00 AM --- Instead of stuffing a turkey, we will make a Thanksgiving basket that you can stuff with messages of thanks to hand out to those who are most important to you! Click here to register.
---
G.A.R. BOOK GROUPS
Our TEEN book group is hosted by our Young Adult Librarian, Ginny Dalrymple. Open to young adults ages 13-22.
We are reading books from the YALSA nominees. Read and vote for your favorites. We will meet in the fall to discuss the winner. Click here for more info.

Adult Book Group - Next meeting is Monday, November 3 at 6:30. Our book this month is Orphan Train by Christina Baker Kline.
Visit the Book Club Page for all the details.
---
New! Patron of the Month Display!
October is Dyslexia month, arranged by Erin Rich
Is something very important to you that you would like to share or make sure
others know more about? Patron of the Month Display celebrates what is important to us. Check with Susan Babb to see if your idea would work in this new program.
It did for Erin Rich. Dyslexia is very important to her for many reasons. She asked if she could put together a display for the Library and this seemed to be a great kick-off for this new program. She has gathered information, resources, and books on the topic. Come and see for yourself!
---
5 Year Strategic Plan approved!
The 5 year Strategic Plan for the Library has been given final approval by the Massachusetts Board of Library Commissioners! This approval makes the G.A.R. Memorial Library eligible for some grants!
The Strategic Planning process began last fall with the selection of a Planning Committee. The Committee met twice earlier this year. Through their work and the results of the Community Survey in April, the Library has Goals, Objectives, and Activities to complete!
Please visit the Strategic Planning Page to see the Community survey results and to read the plan!
---
Story Times began October 7th!
LIGHTS! SIRENS! FUN!
See the pictures here!

Story Time for ages 3-6 (morning and afternoon sessions) begins Tuesday, October 7th with Miss Kate and runs until November 25th. Click here to register for 10:15 class Click here to register for 1:15 class

Toddler Time for ages 2-3 begins Wednesday, October 8th with Miss Kate and runs until November 26th. Click here to register for Toddler Time

Babies and Books for infants - 2 years will be held on Thursdays, beginning October 9th and running until November 20th. Click here to register for Babies and Books
Check our calendar of events for more info.
---
Our September Newsletter
Click here to see our September Newsletter
---
Spotlight on Legal Forms!
a web resource accessible in the library and from home!
Visit our Spotlight on Web Resources to learn more about Legal Forms!
---
Artist Ellen Rittgers
September/October Art Exhibit
View the work of award-winning local artist Ellen Rittgers. A display of her fine art oil paintings is being shown here at the library for the months of September and October. Click here for information about Ellen. You may also visit her website at www.erittgers.com

---
Friends of the Library - Book Donations
Drop off your books and donations on Saturday, November 1st from 10:00 - Noon.
Donate your gently used, newer books, dvds and cds and books on cd from 10:00 - 12:00 at the old Town Hall across from the library. Sorry, we cannot accept encyclopedias, textbooks, magazines, vhs videos or damaged/moldy items. Ask yourself, would you want to buy this at the book sale?
Thank you for helping support the library.
---



T
h

e Children's Castle has donated a bench to the Library to celebrate their 30th year in the Community of West Newbury.





Please come by and have a seat!

Thank you, Children's Castle!
---
Museum Pass Reservation and Program Registration are online!
Please visit our Museum Pass Reservation Page! for passes or Calendar of Events for program registration. You will need your library card to make the reservation.

Some passes are "tear-off" tickets and do not need to be returned. These may be picked up when requested.
Passes that need to be returned must be returned directly to us (in person during open hours or using our Book Drop). They may be picked up the day before the pass is used to allow as many people to use the pass as possible. We ask that all returnable passes be returned by the time we open on the day following your museum visit.

For program registration, scroll down to the day of the event and click register. When signing up for Story Times scroll down to the first day of the session.
If you are unable to use a pass you have reserved or attend a program, please cancel the registration. Contact us at 978-363-1105 if you need help!
---
MANGO LANGUAGES
NEW! - Films to help you learn your language.
Also, 14 new languages added.
---
NEW! TumbleBooks for Kids
eBooks for Kids, read along and read to me, games and puzzles. See our Children's Pages,
Things to Do
---
Mango's Little Pim
Language learning for the littlest ones
Try Little Pim! 10 Languages for kids ages 0 - 6 to learn.
Click here for Little Pim
---
Ideas?
We welcome your suggestions and comments on programs and activities you'd like to see here at the library. Stop in and see us or email Susan Babb, Library Director, at
sbabb@mvlc.org
---